Like many other famous YouTuber couple, the relationship between Tana Mongeau and her boyfriend or ex-boyfriend Somer Hollingsworth didn't last very long. After dating one another for only two years, the former pair broke up.
Tana Mongeau is a 20-year-old American YouTuber who has also worked in some of the TV series like, Minute Match-Ups, Chaos Wolves and Escape The Night.
Tana's ex-boyfriend Somer Hollingsworth is also a fellow YouTuber whose YouTube description reads his passion is to make people smile.
Tana Mongeau and ex-Boyfriend Somer Hollingsworth Break Up Reasons
If you have been following any of the two on Twitter, then you should have already known about their break up reasons.
The 20-year-old Tana Mongeau and YouTuber Somer Hollingsworth began dating in 2015. After dating for almost 2 years, the lovely YouTuber couple broke up in April 2017.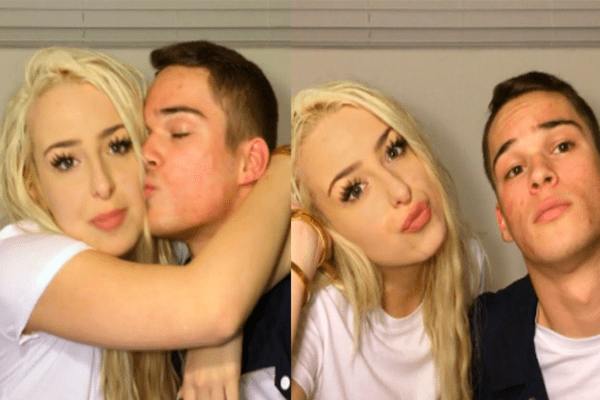 After the relationship began, Somer was even featured in few of Tana's earlier vlogs and videos. On the 7th of January, 2016 Tana posted a video on her YouTube channel with a title "Meet my boyfriend" featuring Somer Hollingsworth.
Only the pretty Tana knows why she still hasn't deleted the video even after their break up.
Somer has enrolled at a University of Nevada, Reno and Tana do most of her business in California. It might be the long distance between the two that made them take such harsh steps.
The YouTuber Tana Mongeau is known for making outrageous videos and in one of her videos, it was seen that Tana was giving a lap dance. She was filmed giving lap dance to Kian Lawley, another YouTuber and that just sparked the flame in Somer.
Before that also, Tana had been posting videos which Somer basically didn't like. Somer took on Twitter to express his frustration and went on a rant tweeting continuously.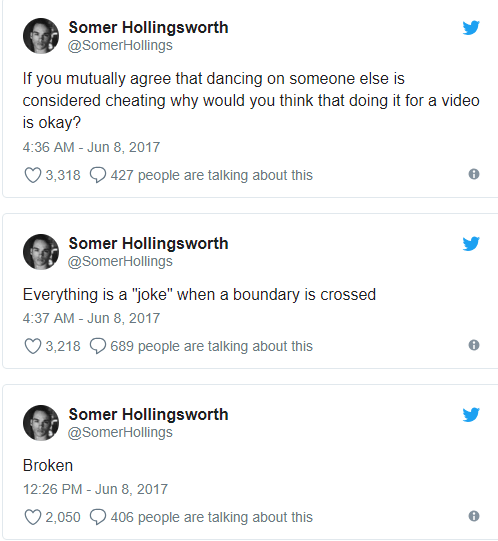 Tana also took Twitter to defend herself from the allegations, and just like that the two decided to part their ways.
three sides to every story. the other persons. mine. & the truth. so why would i come on slandering someone i love…. done tweeting abt it

— Tana Mongeau (@tanamongeau) June 7, 2017
Is Tana Mongeau Dating Bella Thorne?
At the moment, Tana Mongeau is currently dating Bella Thorne, an American actress, and singer. The bond between Tana and Bella had been alluring since Tana and Bella recorded the music video of "Hefner", Tana's song.
Bella Thorne Sucking Face with Tana Mongeau. They are dating for sure.
Image Source: Twitter/Instagram
The lesbian couple is so much into each other that they often mention one another in their social media accounts.
eCelebrityMirror for more Celebrity News and Entertainment. 
For More Updates on Articles, Celebrity Babies, Celebrity Feuds, Celebrity Siblings, Entertainment, Richest Celebrities, Keep In Touch With eCelebritymirror.